If you have a muffin or cupcake production line, you need to configure an automatic and highly efficient muffin packaging machine, to achieve fully automatic production. (Note: this is a flow pack method)
Why Do You Need A Muffin Packaging Machine?
Increase in production: The machine can pack 80-230 pieces per minute, with higher production capacity, you can achieve production goals in a short time.
Precision packaging: To improve the accuracy and efficiency of the muffin packaging process, you only need to set the packaging parameters and the machine can run independently.
Improve hygiene: The machine is made of high-quality stainless steel, which is easy to clean and corrosion-resistant, ensuring that it will not pollute the product.
Enhance beauty: Improve the appearance of product packaging and attract more customers, which means you will increase sales and profits.
Versatility: You can use the muffin packaging machine to pack other products to meet different packaging needs.
Safety: The automatic packaging machine has a sensor that can detect and shut down the machine when a fault is detected, which will save you a lot of maintenance costs.
Reduce manpower: Using a packaging machine will reduce the number of operators you need because they can perform tasks independently.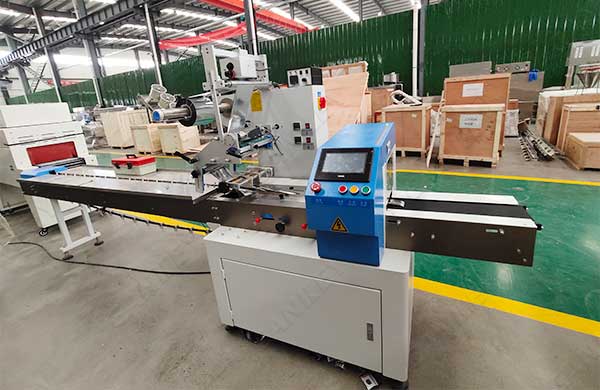 The Cupcake Packing Machine Mainly Contains the Following Components:
Motor: Convert electrical energy into mechanical energy to drive various parts of the machine.
Electrical System: Contains all electrical components that drive the machine.
Control Panel: This allows you to control the cupcake packaging process. In addition, you can also set packaging parameters such as speed through the control panel.
Sensor: It can ensure the safety of operators and machines. It will detect any abnormalities and warn you through the control panel.
Sealing jaws: Helps to seal and cut packaging materials, with heating elements or zigzag patterns.
What Products Can You Pack by this Machine?
This machine provides versatility when packaging products, here are some products that you can pack with the cupcake packing machine:
Cakes, breads, candies, biscuits, instant noodles and some other baked goods.