Due to the uneven density of shredded cheese, it also has higher requirements for packaging. The shredded cheese packaging machine is specially designed for the packaging of shredded mozzarella cheese, with accurate weighing, which can effectively solve this problem.
Our engineers have extensive experience in optimizing grated cheddar cheese packaging efficiency by helping our customers design packaging machines that meet their needs. Our grated cheese packing machine handles shredded cheese gently, accurately weighs shredded cheese, and packs shredded cheese safely, reducing waste. Our packaging machines are of high quality and through reliable automation systems increase output and reduce labor costs.
Shredded Cheese Packaging Process:
After the shredded cheese is produced, it is transported to the storage bin of the hoist in the shredded cheese packaging machine through the conveyor belt, and then sent to the multi-head scale for quantitative weighing and measurement through the hoist. Then, it is packaged into machine bags, sealed, and then sent to a fully automatic cartoning machine through a conveyor belt.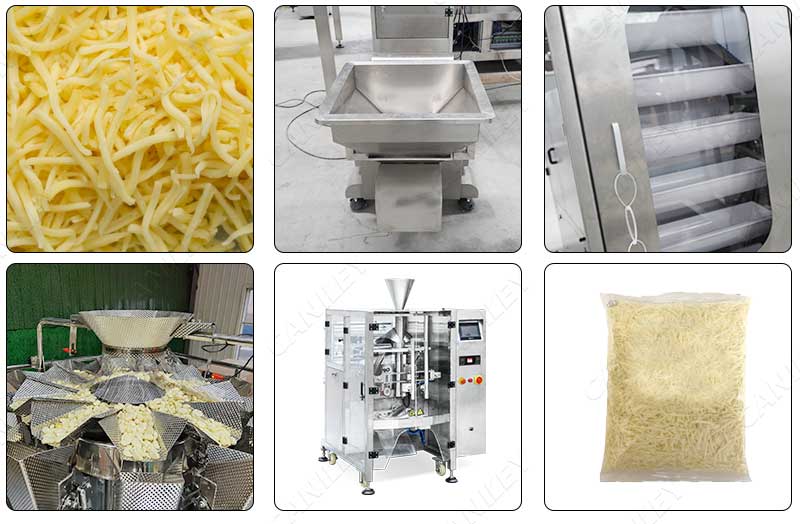 Grated Cheese Packing Machine Features:
Accuracy and Efficiency: Provides accuracy and high efficiency with software improvements, fast digital filtering, anti-vibration, fast processing and precise control. Control system provides optimal product feeding and external vibration control for more accurate weighing. Fast data transfer enables the scale to respond more quickly to control inputs. Enhanced automatic filters and faster filtering of the load cell's weighing speed signal for faster settling.
Integration and Automation: Modern systems are designed to work and communicate simultaneously, making it easier to obtain accurate production details in real-time and quickly compute decisions for combined benefits. Allows producers to focus on the productivity and quality of the shredded cheese. The shredded cheese packaging machine can be well connected with metal detection and other equipment to make the packaging more secure.
Types of Cheese Packaging:
Cheese comes in many forms such as cubes, bars, filaments, etc. Depending on the type of cheese, its packaging is also different. Some use vacuum packaging, and some use pillow packaging. The actual packaging type needs to be determined based on the shape of the cheese.