Here we will introduce a packaging machine fills bags of potato chips. This is very professional equipment, which effectively reduces the broken rate of potato chips, high packaging efficiency and fast packaging speed. The equipment mainly consists of two parts: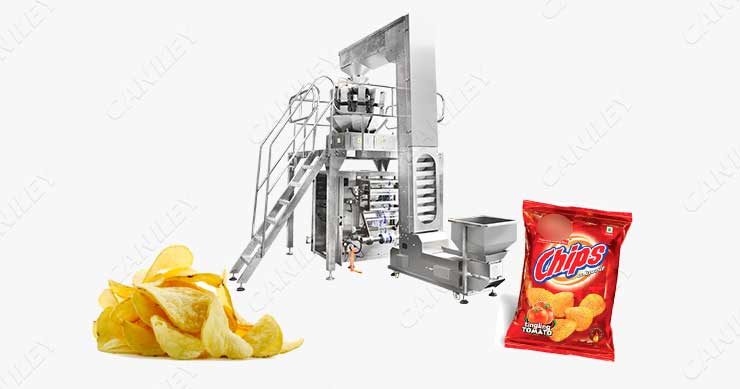 Weighing
This part is done using a multi-head weigher. The selection of high-precision digital load cells enables accurate measurement to be achieved instantly. It can finely adjust the opening and closing speed and opening angle of the hopper door according to the characteristics of the object to be measured, so as to prevent blockage and chips breakage.
The weighing hopper can be unloaded in sequence to prevent material blockage.
Multilingual LCD touch screen that can be converted to each other, easy to operate.
The lighting time of the display backlight can be adjusted manually.
Waterproof and dustproof design, easy to clean.
2. Filling
This part includes three steps of bag making, filling and sealing, which are completed by a vertical packaging machine.
It adopts servo motor control and double-pulling film system to ensure smooth conveying of packaging film and smooth bag formation.
The well-known brand air cylinder is used to ensure good sealing of the bag and clear sealing lines, preventing air leakage of the packaging bag and reducing the waste rate.
Using PLC control, touch screen, high degree of automation, simple operation procedures.
Multiple language operating system options.
With the external film placement mechanism, it is easier and faster to replace the packaging film.
This potato chips packaging machine is used for high-speed, high-precision quantitative weighing and packaging. It is suitable for quantitative weighing of granular, flake, strip, spherical and other materials. Such as candy, fruit, nuts, pet food, baked goods, puffed food, frozen food, etc.