What kind of packaging that is used for frozen vegetables? According to different storage and transportation requirements, there are usually several methods to choose from.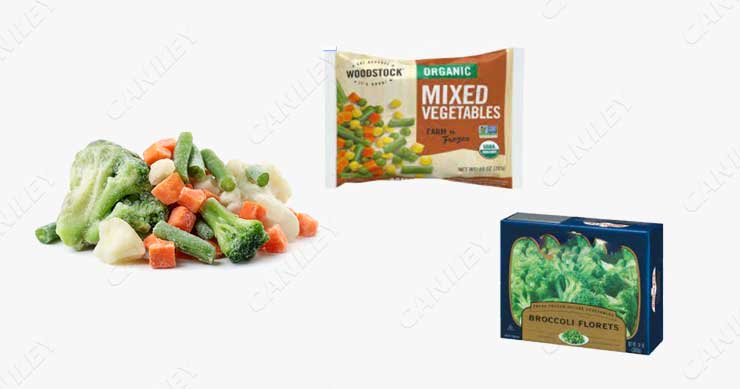 Soft packaging is a packaging material for food packaging. When packaging frozen vegetables, the most commonly used soft bag is a bag made of food -grade plastic, foil or other food safety materials. These flexible bags are usually the variants of independent bags or pillow -type bags. They are packaged for frozen food packaging, such as frozen vegetables, fruits, pasta and other types of frozen foods. Some types of bags are completely transparent, and some are translucent. You can choose the right type of packaging material according to actual needs.
Cardboard is also very commonly used in the packaging of frozen vegetables. Cardboard is sturdy, durable, and easily shrink-wrapped. They can also easily integrate shipping pallets. They can be printed with vibrant and colorful branded images, text and graphics. Often, the full graphic of the food contained inside the box will be printed on the surface to attract consumers.
High barrier thermal forming film
High Barrier Thermal Forming Film is a special type of flexible packaging film. It has amazing thermoforming capabilities, making it the perfect solution for a variety of applications. It is made of plastic resin for superb strength and better piercing. The film is glossy, odor and UV resistant.
Shrink film is a plastic film that usually includes polyethylene, polyolefin or polyvinyl chloride. Shrink wrap is great for boxed frozen vegetables.
Precautions for the selection of frozen vegetable packaging materials:
Easy to seal
Easy to store
Moisture proof
Made from food grade substrate
Strong
Will not become brittle and crack at low temperature
Resists grease, oil and water
How to purchase frozen vegetable packaging materials and packaging equipment?
If you are interested in replacing your product with new packaging materials or changing the existing packaging process, you can contact us. We are a professional packaging machine manufacturer and can provide professional packaging solutions and equipment for your products.