This powder spice bottle filling machine is mainly developed and designed for dust-prone powder and high-precision packaging requirements, and can complete the automatic positioning, filling and measuring of bottles. It consists of a weighing auger filling machine, a chain plate conveyor belt and a pneumatic positioning device. Complete two-speed filling, metering and other work according to the signal given by the weight sensor installed under the container. The bottle powder filling machine can be combined with bottle unscrambler, capping machine, labeling machine, etc. to form a complete filling line.
Powder Spice Bottle Filling Machine Principle And Application:
The machine adopts the metering method of auger filling and electronic weighing feedback, and has the functions of automatic quantitative, automatic filling, and automatic error correction. It is suitable for quantitative filling of spices, condiments, food additives, flour, milk powder, protein powder, washing powder and other materials.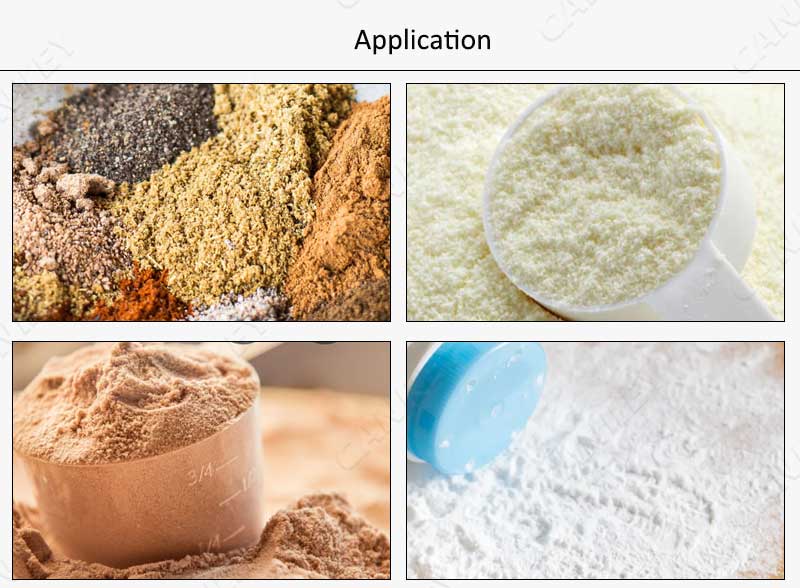 Powder Spice Bottle Filling Machine Work Process:
Conveyor belt feeds spice bottles→position→quick filling spice→The weight reaches the preset value→slow filling spice→The weight reaches the target value→Conveyor belt delivers spice bottles
Bottle Powder Filling Machine Features:
Fast and slow filling according to pre-set weight, high-response weighing system to ensure high packaging accuracy of spice.
Servo motor drives the tray to rise and fall, and the lifting speed can be set arbitrarily. Basically, no dust is raised during filling, ensuring a clean and tidy environment.
Servo motor and servo drive control screw, stable performance and high precision.
PLC control, touch screen man-machine interface display, easy to operate.
All stainless steel structure, combined or open type material box, cleaning is very convenient.
The filling head is equipped with a hand wheel to adjust the height, which can easily realize the packaging of various specifications.
The fixed auger installation structure will not affect the spice properties during filling.