The nutritional powder filling machine adopts auger weighing, accurate measurement, can be used for whey protein powder, sport nutrition powder filling.
This automatic powder filling machine is mainly developed and designed for dust-prone powder and high-precision packaging requirements. It can complete the automatic positioning, filling and measuring of bottles. It consists of a auger weighing filling machine, a chain plate conveyor belt and a pneumatic positioning device.
Nutritional Powder Filling Machine Working Process:
---
conveyor belt into the bottle→bottle positioning→fast nutritional powder filling→The weight reaches the preset value→slow nutritional powder filling→weight reaches the target value→conveyor belt output
Automatic Powder Filling Machine Features:
---
The carriage is mounted on a weight sensor for fast and slow filling according to a pre-set weight. The weighing system with high response speed ensures high packaging accuracy.
Servo motor and servo drive control screw, stable performance and high precision.
PLC control, touch screen man-machine interface display, easy to operate.
All stainless steel structure, open material box, easy to clean.
The filling head is equipped with a hand wheel to adjust the height, which can easily realize various specifications of packaging.
The fixed auger installation structure will not affect the material properties during filling.
Optional Equipment of Nutritional Powder Filling Machine:
---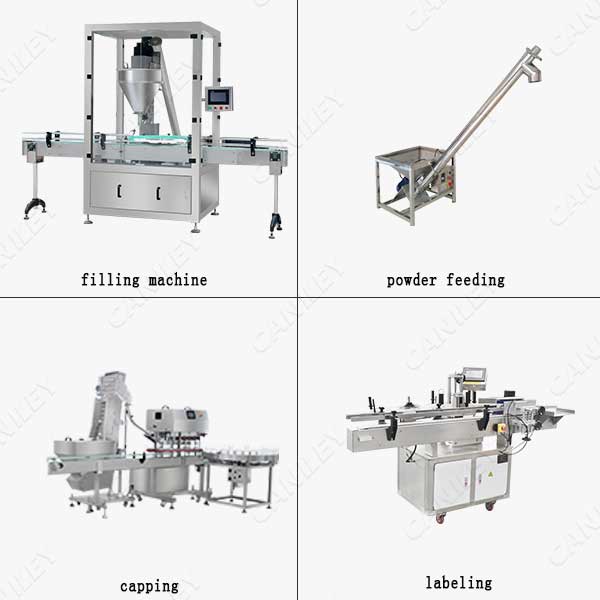 Vacuum feeder:
Dust-free closed pipeline conveying equipment for conveying nutritional powder by means of vacuum suction. Using the air pressure difference between the vacuum and the ambient space, the gas flow in the pipeline is formed, and the nutritional powder is driven to move, thereby completing the powder transportation.
Capping machine:
For screwing the cap tightly. Automatic feeding cap, automatic tightening. Man-machine interface operation, PLC control, can be used for various bottles and caps.
Labeling machine:
Glue the rolled label to the bottle. It can complete operations such as plane pasting, single-sided or multi-sided pasting, cylindrical pasting, partial coverage or full coverage.