The pharmaceutical powder filling machine is designed for pharmaceutical industry, can also suitable for healthcare products, such as protein powder, glucose powder, etc. Suitable for filling, capping, labeling, etc. of most powder products.
Fine Powder Filling Machine Configuration:
Fully automatic powder filling line includes: Bottle sorting machine- automatic feeder- powder filling machine- capping machine(or sealing machine)-foil sealer-labeling machine, the pipeline configuration can be selected according to the requirements of the product.
Fine Powder Filling Machine Features:
The pharmaceutical powder filling machine is made of stainless steel, and all machine structures are selected and designed in accordance with food and pharmaceutical hygiene standards.
The whole line of equipment is designed according to the GMP standard and fully meets the national food and pharmaceutical hygiene requirements. The fully automated action of the assembly line is truly realized to ensure that personnel will not touch the medicine during the entire production process. The packing process is completely transparent and more reliable.
The inner wall of the container in contact with the pharmaceutical is polished. The structures that are often dismantled and washed are connected by easy dismantling parts. Ensure that the handling is more hygienic and convenient when changing shifts or changing products.
You can go to the factory for on-site inspection and design the best filling solution on the spot. Provide free technical support for other aspects of the filling line.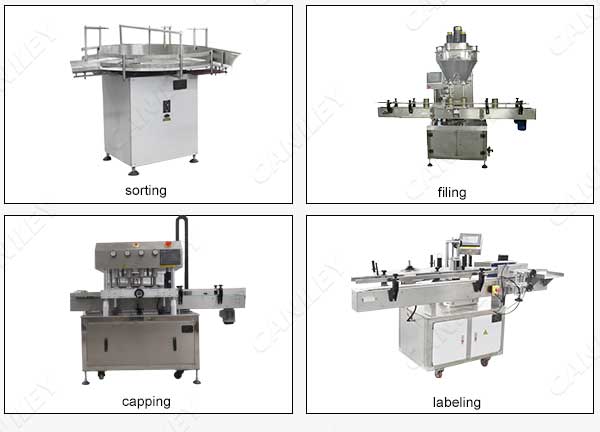 Pharmaceutical Powder Filling Machine Application:
Medicine powder, protein powder, glucose powder, additives, spices, chemical materials, etc.
Advantages:
The fine powder filling system that realizes automatic control can greatly improve production efficiency and product quality, and significantly eliminate errors caused by packaging processes and printing and labeling. Effectively reduce the labor intensity of workers and reduce energy and resource consumption.
The automatic control filling system designed and installed in the powder filling line plays a very obvious role in improving product quality and production efficiency, eliminating processing errors and reducing labor intensity.
The fine powder filling lines are vital to the food, beverage, pharmaceutical and other industries and are widely used.