There are many types of powder filling machines. For different materials, different types of powder filling machines are required to complete them. Choosing the right machine is a challenge for many production companies. Only equipment that meets accuracy and high efficiency can bring a high return on investment to the enterprise.
According to the production requirements of different customers, the common types of powder filling machines are: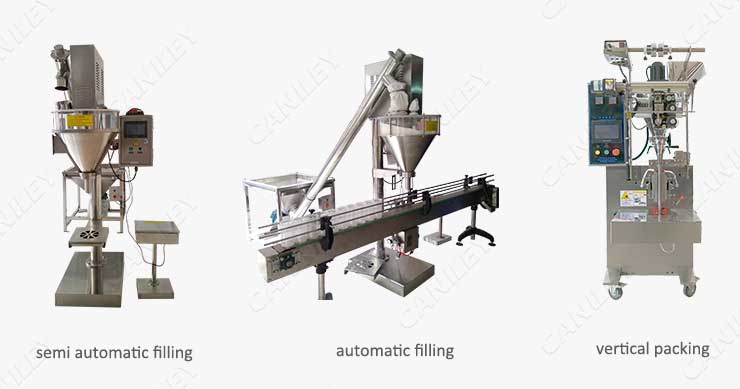 Semi-automatic auger filling machine. The auger filling type is one of the widely used types. Vertically rotating auger that rotates continuously to release the right amount of powder into the packaging container. The amount of powder filling in each container is consistent. The auger rotates at a consistent speed, and the number of revolutions is the same. This type is a multifunctional filling machine, so many product manufacturers use them for filling needs of fine powders and small granules. Semi-automatic machines give operators greater control over each filling cycle and use volume- or weight-based filling limits.
Automatic auger filling machine. The working principle of this machine is basically the same as that of the semi-automatic filling machine. But there is more automation and faster packaging. More work can be done with less labor. Moreover, it reduces the contact between people and products, and is more clean and hygienic. Help to create a good workshop environment.
Automatic vertical packaging machine. This machine is different from the above two in that it packs the powder into a bag. The main steps are bag form-fill-seal. Manufacturers can choose the appropriate model according to the packaging specifications.
When you are choosing a packaging machine, you must consider product characteristics, product requirements and maintenance considerations. Only in this way can you choose the right machine and create more profits for the company. You can contact us if you have any problems with your selection.